Measuring the symptoms of movement disorders like Parkinson's Disease, a neurological condition that affects the use of muscles (Mandal 2019), has always been challenging. Self-reporting is often subjective; even clinician reporting may be subjective and is difficult to standardize. At the same time, having a clear, specific timeline of movement disorder symptoms is critical, as it allows researchers to understand the untreated progression of a condition, and/or how specific interventions may affect symptoms.
BrainBaseline's clinical trial mobile apps are research tools that allow a more sensitive and effective measurement of a patient outside of a clinic or clinician's office. The mobile apps we produce allow us to combine subject data gathered from digitized surveys (ePROs), cognitive testing tasks, speech tasks, and active tasks, as well as continuous data capture. This easy and consistent gathering of data allows us to capture evidence of disease progression as well as the impacts of lifestyle changes and medical interventions on clinical study or trial participants with movement disorders.
Examples of BrainBaseline active tasks for movement disorders include walking tasks that test gait, standing tasks that test balance, and arm tasks that test tremors.
---
BrainBaseline Movement Disorder Studies: Clinically Valid Digital Measures & App Engagement Success
BrainBaseline has seen increasing success as well as interest in our platform and applications deployed for the study of movement disorders like Parkinson's Disease (PD). Along with more standard ePROs and cognitive testing tasks, the mobile applications we have designed, developed, and deployed include active or motor tasks that digitally replicate how a patient is evaluated in-clinic. We have partnered in two publicly disclosed PD studies of note, WATCH-PD and MAP-PD:
---
WATCH-PD Study
WATCH-PD is a multi-site observational study, with sessions both in-clinic and at-home, run by researchers at the University of Rochester. This study's findings, using the BrainBaseline platform and mobile applications, will be used alongside other data to engage regulatory bodies in the U.S. and abroad, outlining a path to the inclusion of novel digital endpoints in trials of early Parkinson's Disease.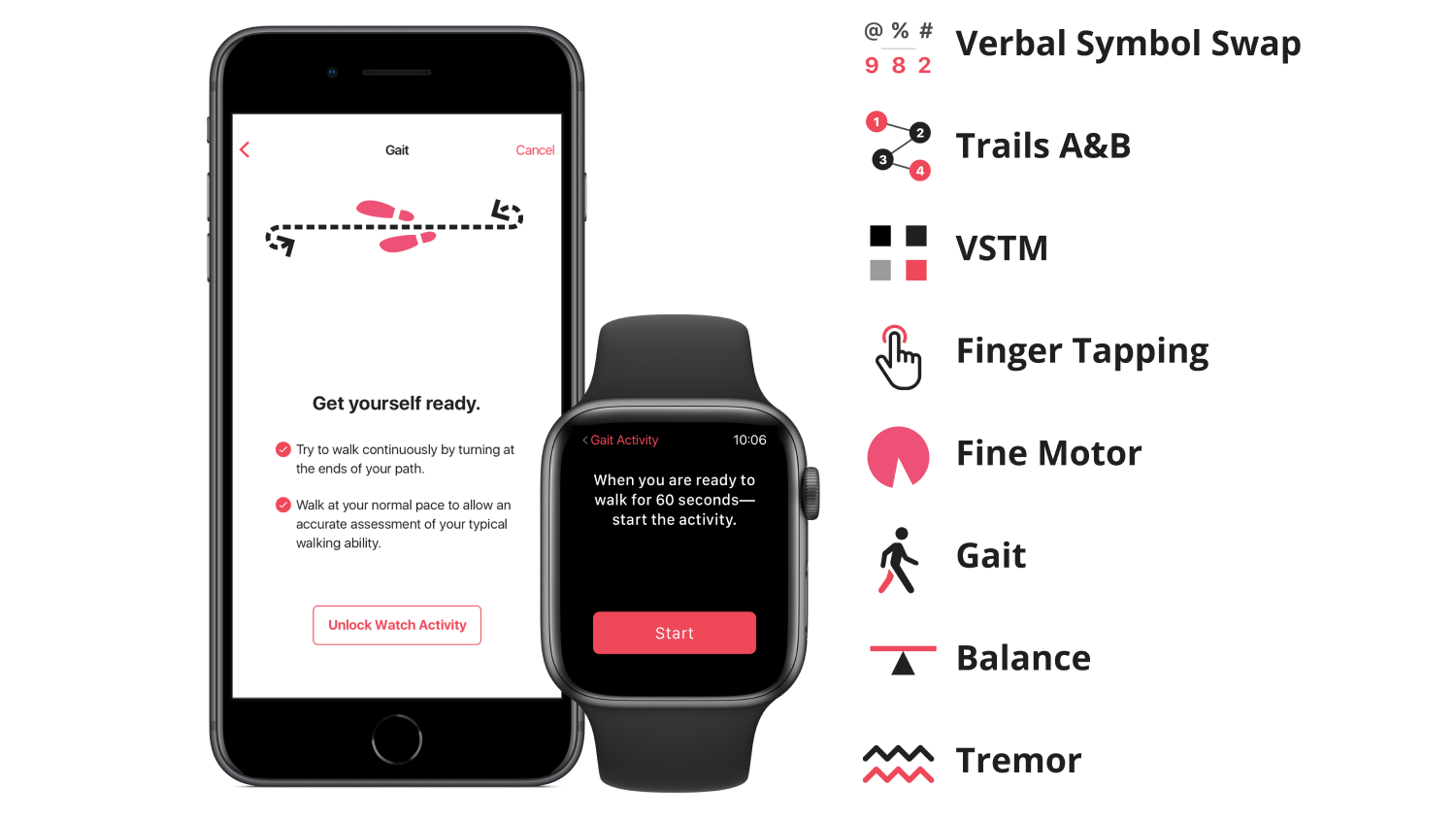 Initial results presented in an abstract at the MDS (the International Parkinson's and Movement Disorder Society) Virtual Congress 2020, on September 11, 2020, demonstrated data correlation between the assessments done in-clinic and those conducted digitally.
Partners in this study include Biogen, the University of Rochester, and the Critical Path Institute (C-Path).
---
MAP-PD Study
MAP-PD was a study conducted both at-home and in-clinic by researchers at Boston University and Tufts University. Researchers substantiated that the remote administration of motor and cognitive tasks by BrainBaseline's smartphone and watch apps is a useful method for monitoring Parkinson's Disease progression outside of clinic visits.
Participants with Parkinson's Disease successfully completed over 95% of the at-home digital activities in the study, substantiating that the BrainBaseline platform lowers the burden of study participation.
---
For more information about this research, see BrainBaseline's case studies.
In addition to these Parkinson's Disease studies, we have translated our clinical trial solution and clinical trial apps to other movement disorders including Ataxia, Amyotrophic Lateral Sclerosis (ALS), Multiple Sclerosis (MS), Multiple System Atrophy (MSA), and Spinal Muscular Atrophy (SMA). Contact us to learn more.